Eboshi rock this and that
Page number C1006948  Updated on  November 22, 2016
The history of Eboshi rock (rock shaped like a noble's headgear)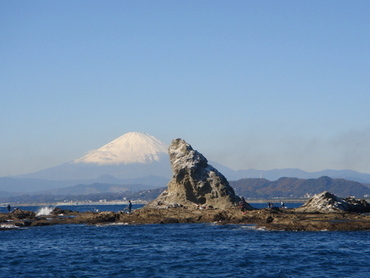 Official name of symbol "Eboshi rock" of Chigasaki to appear in familiar song which sang Shonan over and over again is called "Ubashima" (ubajima).
 Birth of Eboshi rock is said to be 12 million years ago, and neighboring strata are Chigasaki oldest things, and the class of sandstones and the class of volcanoes do stripe, and stratum which deposited in the bottom of the sea is said to have risen.
 In addition, the Eboshi rock outskirts became perfect Ryoba at reef from old days, and had Ryoba fight between fisherman of Izu and fisherman of hometown Owada in the Edo era, and court noble Imperial Guardsman certain person of Kyoto composed on village headman of Owada in the middle of going down to the eastern provinces on this occasion; "Owada named Sagami remembers that there was song called Ubashima hatareomatsuyarahitorineosuru of ura", and insist on Ubashima being territory of Owada in evidence with the strip of paper, and there is legend that beat dispute.
 As there is this monument inscribed with a tanka poem in Kumano Shrine of Owada, please visit if there is opportunity.
 As for old Eboshi rock, bit left a trail like formal headwear for court nobles than current thing for a long time more to the west, but in postwar period of target practice of the U.S. forces was targeted, and the bit disappeared, and citizens movement to protect symbol of our town got up, and training was canceled.
 By the way, it is Eboshi rock with various history, you incline to the west, or do you know in this way whether real formal headwear for court nobles inclines to the east?
 Generally, we are said to incline to the west, but, judging from boardwalk of head land looking at Eboshi rock in the front, seem to incline to few east. Eboshi rock which moves to the west, and looks at southern beach chigasakikara inclines to the west clearly and is seen.
 In addition, Eboshi rock very greatly appears between trees planted to arrest shifting of the sand when we come out of rachien street to the shore. But we become small adversely when we pass through passage of trees planted to arrest shifting of the sand and appear on sandy beach.
 Eboshi rock comes to the center of Japanese yen of southern beach chigasakiniaru monument "Chigasaki southern C" and is satisfied to souvenir picture together.
 Eboshi rock showing various expressions stares at gull and people who visit Chigasaki while playing today seasonally in this way from the sea.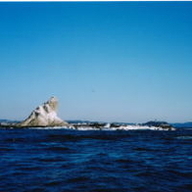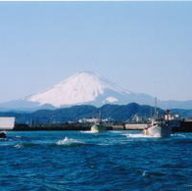 Eboshi rock color color
| | |
| --- | --- |
| Ferryboat | Ferry steamer for angler goes out of Chigasaki fishing port to Eboshi rock. |
| Eboshi rock cruise ship | "Eboshi rock cruise ship" became the navigation in whole year from November, 2013. We can see Mount Fuji over Eboshi rock depending on Enoshima, weather from the backside and the sea of Eboshi rock which is not usually seen. |
| No thoroughfare for vehicles of cycling road | 43 Eboshi rock-shaped chocks are installed in cycling road running on shoreline of 8.4 kilos from Chigasaki to Fujisawa from 1994. |
| Monument of the second floor of the city hall rooftop garden | There is monument of stone Eboshi rock in rooftop garden in the Chigasaki-shi government office main government building the second floor south side. It has a shape of old days before receiving bombardment. |
| Monument of Chigasaki Station home | There is monument of Eboshi rock installed in the east end in commemoration of the station establishment 90th anniversary most of Sagami Line home of JR Chigasaki Station. |
| Cover of manhole | Eboshi rock is designed from April, 1991. |
| Ubashima monaka | Monaka which designed Eboshi rock sold at long-established store of Japanese confectionery in the city. |
Please let know your opinion to have better website
Inquiry
about this page
Economics Department Industrial Promotion Section sightseeing charge
City hall main government building the third floor
〒253-8686 1-1-1, Chigasaki, Chigasaki-shi
Telephone: 0467-82-1111 fax: 0467-57-8377
Questions and inquiries