About AED of each elementary and junior high school
AED (automated external defibrillator)
We installed AED in Chigasaki City elementary and junior high school more
We installed AED one in Chigasaki City elementary and junior high school more. It operates from January, 2019.
In each school, we installed AED one in indoor (mainly gymnasium), but installed AED one more newly outdoors until now to cope in emergency the outdoors.
As you are intended that you can use for state of emergency of local in emergency during outdoor activity in athletic grounds by installing more outdoors, please utilize by all means.
(note) as there is school changing place in AED which established conventionally, with additional setting, please be careful. Please confirm the following inspection about detailed setting place.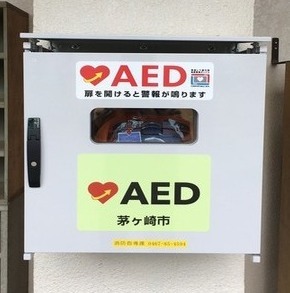 It is outdoor AED. Warning sound sounds when we open box.
Phosphorescence-type sticker is put and shines even by night.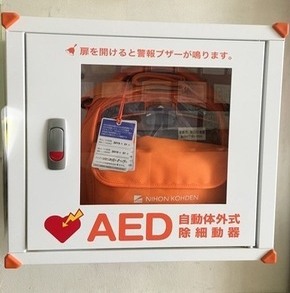 It is indoor AED.
As well as the outdoors, warning sound sounds when we open box.
Related information
Please let know your opinion to have better website
Inquiry
about this page
Educational General Affairs Department Educational General Affairs Section accounting charge
It is the third floor of the Government building for city hall
〒253-8686 1-1-1, Chigasaki, Chigasaki-shi
Telephone: 0467-82-1111 fax: 0467-58-4265
Questions and inquiries